Power: 220kw - 2500KW
Voltage: 3KV, 6KV, 10KV
Speed: 500RPM/590RPM/740RPM/990RPM/1500RPM/3000RPM
Protection Degree: IP44/IP54
Cooling method: IC611
Insulation Class: F
Duty: S1
Package: Export Wooden Package
Payment: 30% in advance, balance by T/T or L/C at sight.
Potencia: 220kw - 2500KW
Voltaje: 3KV, 6KV, 10KV
Velocidad: 500 RPM / 590RPM / 740RPM / 990RPM / 1500RPM / 3000RPM
Grado de protecci¨®n: IP44 / IP54
M¨¦todo de enfriamiento: IC611
Clase de aislamiento: F
Tipo de servicio: S1
Paquete: empaquetado de madera para exportaci¨®n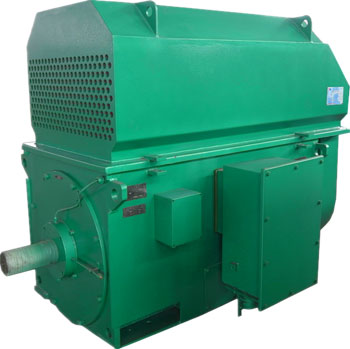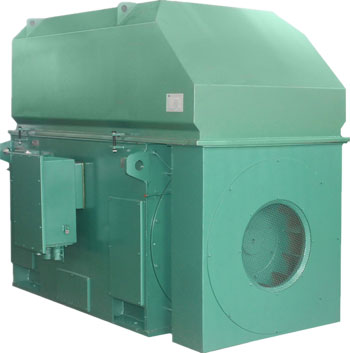 Description and Application
YRKK series (3kv, 6kv,10kV) motor, is of wound rotor three phase asynchronous motor. Which complies with JB/T10314.2-2002. The protection degree of the motor is of IP44/IP54 and the cooling method is of IC611.
The motor has such advantage as high efficiency, energy-saving low noise, low vibration, light weight and reliable performance. They are easy for installation and maintenance.
This motor can generate larger starting torque at the state of relatively lower starting current. It used where the capacity of the feeder line is insufficient to start a squirrel cage motor or where the longer starting time and frequent starting are needed or where adjustment of speed is needed within a limited range such as windlass, press machines, drawing machines.
Descripci¨®n y aplicaci¨®n
El motor de la serie YRKK (3kv, 6kv, 10kV) es un motor trif¨¢sico as¨ªncrono de rotor bobinado. Que cumple con JB / T10314.2-2002. El grado de protecci¨®n del motor es de IP44 / IP54 y el m¨¦todo de enfriamiento es de IC611.
El motor tiene ventajas como alto rendimiento, ahorro de energ¨ªa, bajo nivel de ruido, baja vibraci¨®n, peso ligero y rendimiento confiable. Son f¨¢ciles de instalar y mantener.
Este motor puede generar un mayor par de arranque en el estado de corriente de arranque relativamente m¨¢s bajo. Se usa cuando la capacidad de la l¨ªnea alimentadora es insuficiente para arrancar un motor de jaula de ardilla o cuando se necesita un mayor tiempo de arranque y arranque frecuente o cuando se necesita un ajuste de velocidad dentro de un rango limitado como moliendas, m¨¢quinas de prensa, m¨¢quinas de estirar.
Type of meaning
Tipo de significado

The structure and the mounting type is of IMB3 with continuous duty(S1). The rated frequency is 50Hz and the rated voltage is 3000V, 6000V,1000V, other voltage requirement or special requirements should be negotiate with manufacturer before order is placed.
La estructura y el tipo de montaje es de IMB3 con servicio continuo (S1). La frecuencia nominal es de 50Hz y la tensi¨®n nominal es de 3000V, 6000V, 1000V, otros requisitos de voltaje o requisitos especiales deben negociarse con el fabricante antes de realizar el pedido.
Order Notice
When ordering, the following requirement should be specified:
Frame size such as: YRKK3551-4
Mounting type: IM B3
Rated Power: 220KW
Protection Degree: IP44/IP54
Rated Voltage: 6 KV
Cooling Method: IC611
Rated Frequency: 50HZ
Insulation Class: F
Synchronous Speed: 1500r/min
Ambient Condition: Altitude above sea level maximal 1,000m, cooling air temperature maximal 40¡æ.
Note: Belt driving is not allowed on the motor of 2poles and 4poles. Belt driving applied on the motor of other poles, should be negotiated with factory.
Aviso de orden
Al hacer el pedido, se debe especificar lo siguiente:
Tamaño de fotograma como: YRKK3551-4
Tipo de montaje: IM B3
Potencia nominal: 220KW
Grado de protecci¨®n: IP44 / IP54
Voltaje nominal: 6 KV
M¨¦todo de enfriamiento: IC611
Frecuencia nominal: 50HZ
Clase de aislamiento: F
Velocidad s¨ªncrona: 1500r / min
Condici¨®n del ambiente: Altitud sobre el nivel del mar m¨¢xima de 1,000m, temperatura del aire de enfriamiento m¨¢xima de 40 ¡æ.
Nota: La conducci¨®n del cintur¨®n no est¨¢ permitida en el motor de 2 polos y 4 polos. La conducci¨®n de la correa aplicada en el motor de otros polos, debe negociarse con la f¨¢brica.